AC Leigh Architectural Ironmongery Reviews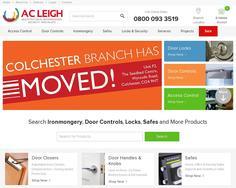 4.0
Voice your opinion! Review AC Leigh Architectural Ironmongery now.
Consumer Complaints and Reviews
19th May 2017
I have no use for a service that patently does not understand its own business. I hired the service online, thinking that when I needed it, it would be there. Unfortunately, not long after I hired them, I needed their services. I emailed the usual paperwork. They emailed me back what was this for. I was surprised, but explained the problem. They emailed me back that the service I contracted didn't cover that. I said it most certainly did and emailed them the papers with the paragraphs boldly circled. I haven't heard back from them. The main office of the service hasn't answered me either. Now I'm out the money I spent on the service, and what they were supposed to cover. Never ever use this service.
Is AC Leigh Architectural Ironmongery your company?
Get to know your customers. Simply claim your company now. Get real customer insight and respond to your reviews. It's free.





AC Leigh Architectural Ironmongery

AC Leigh is one of the UKs leading Architectural Ironmongers with over 50 years experience. Specialising in Ironmongery, Access Control, Safes and more

Spread the word. Tell your friends what companies they can trust. Sharing is caring.

Contact information

Visit website

Write to

Call us on

We live here

Unit 4, Dencora Business Centre, Norwich, NR2 4PD

Country

United Kingdom

Trustmeter's Commitment
Trustmeter is committed to improving your online shopping experience. We fight against fabricated reviews and we guarantee that no company can censor or delete reviews. Which reviews are considered fabricated?
Let Trustmeter know if you notice reviews you believe are fabricated.