Guy's and St Thomas' Privat Health Care Reviews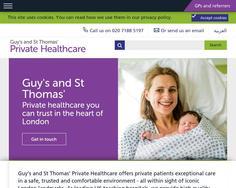 10.0
Voice your opinion! Review Guy's and St Thomas' Privat Health Care now.
Consumer Complaints and Reviews
3rd Feb 2020
My dad and mom both have been treated regularly under excellent care, observation and supervision round the clock. Excellent staff, alert and helpful, and always extend timely support with a smile. Very pleasant, all the staff and nurses are well trained and quick to attend. Highly recommended - guysandstthomasprivatehealthcare.co.uk
30th Dec 2019
I had a really nice experience with Guys and St Thomas Private Healthcare. Their service includes everything which is needed for every patient. They have highly skilled consultants who are very professional and supportive. Also, their facilities are excellent. I would highly recommend for your treatments. Visit https://guysandstthomasprivatehealthcare.co.uk/
28th Feb 2019
Guysandstthomas is the best hospital in terms of maternity and child care. Why I am saying this because I had a really good experience with the hospital. I got to know this place when I was expecting my first baby. The doctor that I was very under consultant was very experienced and very polite and listens to all my problems with patience. Highly recommended - https://guysandstthomasprivatehealthcare.co.uk/departments/maternity-and-fertility-services/
Is Guy's and St Thomas' Privat Health Care your company?
Get to know your customers. Simply claim your company now. Get real customer insight and respond to your reviews. It's free.





Guy's and St Thomas' Privat Health Care

Guy's and St Thomas' Private Healthcare provide high quality adult clinical services, children's services, maternity and fertility services by world class consultants. Check now.

Spread the word. Tell your friends what companies they can trust. Sharing is caring.

Contact information

Visit website

Write to

Call us on

We live here

St Thomas' Hospital, Westminster Bridge Road, London SE1 7EH, London, SE1 7EH

Country

United Kingdom

Trustmeter's Commitment
Trustmeter is committed to improving your online shopping experience. We fight against fabricated reviews and we guarantee that no company can censor or delete reviews. Which reviews are considered fabricated?
Let Trustmeter know if you notice reviews you believe are fabricated.