Higgins and Winter Dental Practice Reviews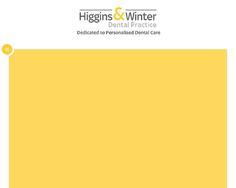 10.0
Voice your opinion! Review Higgins and Winter Dental Practice now.
Consumer Complaints and Reviews
11th Mar 2020
Higgins & Winter are dedicated to delivering personalized dental care before, during and after treatment for all of our patients. They offer wide range of services in a state of the art environment, offering the latest in digital technology. Services include teeth straightening surgery in Ponteland and General Dentistry, Dental Implants, cosmetic dental surgery , Skin Care and Tooth Whitening. To book your appointment you can visit our website or call us on 01661 872 979.
Is Higgins and Winter Dental Practice your company?
Get to know your customers. Simply claim your company now. Get real customer insight and respond to your reviews. It's free.





Higgins and Winter Dental Practice

We are experienced in providing a range of adult orthodontics treatments, including rejuvenation techniques and facial aesthetics in a Ponteland and Northumberland.

Spread the word. Tell your friends what companies they can trust. Sharing is caring.

Contact information

Visit website

Write to

Call us on

We live here

17 BELL VILLAS, PONTELAND NEWCASTLE UPON TYNE, NE20 9BD, PONTELAND NEWCASTLE UPON TYNE, NE20 9BD

Country

United Kingdom

Trustmeter's Commitment
Trustmeter is committed to improving your online shopping experience. We fight against fabricated reviews and we guarantee that no company can censor or delete reviews. Which reviews are considered fabricated?
Let Trustmeter know if you notice reviews you believe are fabricated.