Kitchen Remodel Los Angeles Reviews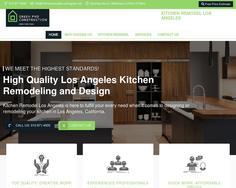 10.0
Voice your opinion! Review Kitchen Remodel Los Angeles now.
Consumer Complaints and Reviews
24th Feb 2020
Address: 1004 Towne Ave #122 Los Angeles, CA 90021 Phone: 310-971-4500 Website: http://kitchenremodellosangeles.net/ Category: Kitchen Remodel And Design Hours: Mon - Sun 8am - 9pm Payment Types: Cash, all cc Description: Our company is one of the largest providers of kitchen remodel, design and renovation services in Los Angeles, CA. Over the years, we have received thousands of positive reviews from our clients. The truth is that we value our clients and that we understand they needs. You want to get excellent customer service and top notch services. You expect quality work for the money you pay. Kitchen Remodel Los Angeles is the company that offers this to each and every one of its clients. We never cut corners just to make an extra buck. Why? Because, unlike most other kitchen companies in LA, we actually do care about you and about your time and money. You can rely on us, period. After all, we are all Los Angeles locals here. We agree that many of our competitors overcharge their clients. However, please keep in mind that not all companies are the same. Overcharging the client is a big no-no at Kitchen Remodel Los Angeles. In addition, we guarantee that there will never be any hidden costs when working with us. We respect our clients and know that we would be nothing without them. Keywords: Kitchen Design, kitchen remodel, kitchen remodeling, kitchen cabinets, custom kitchen, modern kitchen, kitchen renovation, modern kitchen, kitchen remodeling ideas, kitchen design ideas, Los Angeles, CA GMB Listing: https://g.page/kitchen-remodel-los-angeles Social Links: https://twitter.com/KitchenLos https://www.facebook.com/pg/Kitchen-Remodel-Los-Angeles-106063587660568/about
Is Kitchen Remodel Los Angeles your company?
Get to know your customers. Simply claim your company now. Get real customer insight and respond to your reviews. It's free.





Kitchen Remodel Los Angeles

Spread the word. Tell your friends what companies they can trust. Sharing is caring.

Contact information

Visit website

Write to

Call us on

We live here

1004 Towne Ave #122 Los Angeles, CA 90021, Los Angeles, CA 90021

Country

United States

Trustmeter's Commitment
Trustmeter is committed to improving your online shopping experience. We fight against fabricated reviews and we guarantee that no company can censor or delete reviews. Which reviews are considered fabricated?
Let Trustmeter know if you notice reviews you believe are fabricated.