Silver Lining Apartments Edinburgh Reviews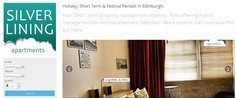 4.0
Voice your opinion! Review Silver Lining Apartments Edinburgh now.
Consumer Complaints and Reviews
11th Jun 2017
Basic and a bit run down in need of refurb, not enough cooking equipment in them, windows are very stiff to close and in much need of replacing... can hear a pin drop!! So if you want slept don't come here!! Pillows are disgusting with no protective covers on them and if you need two pillows them you need to use them without pillowcases as no extra ones! Same as towels one hand towel for six to use!! Shower... where to start!! It needs to be run for 10minutes before any hot water comes through and then you either have to get burnt with the water or a cold shower! Couldn't wait to get home!
Is Silver Lining Apartments Edinburgh your company?
Get to know your customers. Simply claim your company now. Get real customer insight and respond to your reviews. It's free.





Silver Lining Apartments Edinburgh

Holiday, Short Term & Festival Rentals in Edinburgh.

Your Short Term property management experts - Now offering Airbnb management for individual owners. Less fuss - More income. Call us now to find out more.

Spread the word. Tell your friends what companies they can trust. Sharing is caring.

Contact information

Visit website

Write to

Country

United Kingdom

Trustmeter's Commitment
Trustmeter is committed to improving your online shopping experience. We fight against fabricated reviews and we guarantee that no company can censor or delete reviews. Which reviews are considered fabricated?
Let Trustmeter know if you notice reviews you believe are fabricated.