Black Barn Upholstery Supplies Reviews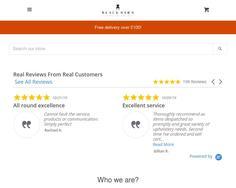 2.0
Voice your opinion! Review Black Barn Upholstery Supplies now.
Consumer Complaints and Reviews
11th May 2017
I've read bad reviews in the past, but this one took the prize. I wanted to use a service online, so I checked them out first. Not one of the reviews was positive. I felt uneasy trying them anyway just to see, so I used an online service much like that one. The reviews weren't so bad. Consider this the first bad review for this online company. It not only took three weeks to receive the item this service offers, but the item wasn't even wholly put together. I ordered a replacement, but that one wasn't in much better condition. Skip it; don't use this service.
Is Black Barn Upholstery Supplies your company?
Get to know your customers. Simply claim your company now. Get real customer insight and respond to your reviews. It's free.





Black Barn Upholstery Supplies

Retailers of Upholstery Supplies to the trade and public. Sellers of webbing, hessian, tacks, springs, tools, staples, staple guns, upholstery nails and more.

Spread the word. Tell your friends what companies they can trust. Sharing is caring.

Contact information

Visit website

Write to

Call us on

We live here

Unit 1, Black Barn, Manningford Abbots, Pewsey, Wiltshire. SN9 6HZ, Pewsey, Wiltshire, SN9 6HZ

Country

United Kingdom

Categories

Black Barn Upholstery Supplies is ranked 24 out of 29 in the category Tools

Black Barn Upholstery Supplies is ranked 27 out of 39 in the category Categories Home & Garden Furniture

Trustmeter's Commitment
Trustmeter is committed to improving your online shopping experience. We fight against fabricated reviews and we guarantee that no company can censor or delete reviews. Which reviews are considered fabricated?
Let Trustmeter know if you notice reviews you believe are fabricated.