Voice your opinion! Review Why The Lucky Stiff now.
Consumer Complaints and Reviews
12th May 2021
Superb Service delivered on time and on budget!
2nd Jun 2017
Great online journal for business owners, leaders, CEOs, entrepreneurs, and anyone in similar roles. It is also fun to read and has some useful guides and tips. I highly recommend following The Lucky Stiff!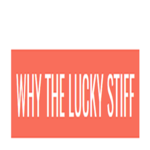 Is Why The Lucky Stiff your company?
Get to know your customers. Simply claim your company now. Get real customer insight and respond to your reviews. It's free.





Why The Lucky Stiff

Why the lucky stiff has articles on different topics, recommendations and tips around technology such as smartphones, security and other similar tech news

Spread the word. Tell your friends what companies they can trust. Sharing is caring.

Contact information

Visit website

Trustmeter's Commitment
Trustmeter is committed to improving your online shopping experience. We fight against fabricated reviews and we guarantee that no company can censor or delete reviews. Which reviews are considered fabricated?
Let Trustmeter know if you notice reviews you believe are fabricated.